News & Updates
MyChoice Prepay Program
MyChoice is a prepay program that enables members to customize their payments and say goodbye to deposits, monthly bills and due dates. Click here to learn more.
Member Appreciation 2018
Registration is now open for the 2018 Member Appreciation Event at Ironwood Springs! To sign-up, please click here.
Running Start for School
People's Energy Cooperative is serving as a collection site for United Way's Running Start for School. Please drop off donations of school supplies at our main office in Oronoco any time between now and Thursday, July 28.
June Newsletter
Click here to access the June Highline Newsletter. The online spot your number for June is 28568.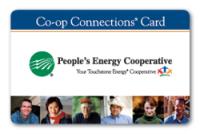 Co-op Connections
Just by showing your Co-op Connections Card, members can take advantage of savings at local and national businesses! For a full listing of local discounts available along with more information about the program, click here.
People's Community Solar provides members the opportunity to participate in solar energy without having to install on their own property. If you are interested in harnessing the sun's power call (800) 214-2694 today! Click here for information and answers to frequently asked questions.
Click on the appropriate program to view current load control information for Residential Load Control and Commercial-Industrial-Agricultural Load Control.

Operation Round Up
The next round of Operation Round Up grant applications are due by 4:00 p.m. on Wednesday, June 20, 2018, to be considered for second quarter 2018 grant money. For more details and an application, click here.
Can't find what you're looking for or have a question, contact us.
This institution is an equal opportunity provider and employer.