Highline Newsletter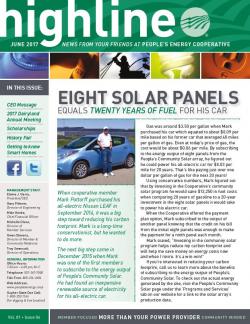 The Highline is People's Energy Cooperative's member newsletter. This communication tool is our connection to our members, keeping them informed with important news and information about the Cooperative. While the newsletter is typically mailed, we encourage members to go paperless and receive an electronic copy each month.
Click here to receive a monthly newsletter via email rather than in the mail.
Eight Solar Panels Equals Twenty Years of Fuel for his Car
CEO Message
76th Annual Dairyland Meeting
Our 2017 Scholarships
Education & Training in Our Schools
Shop Local and Save!
Operation Round Up Spotlight: History Center of Olmsted County
Don't Let Unsafe Actions Rock the Boat
Smart Homes - What Are They?
Language Assistance Now Available
The online spot your number for June is 941.
Past Issues
2017
2016