Board of Directors and Voting Districts
Our members have a voice in the operation of the Cooperative through a member-elected Board of Directors. While each director represents a geographic region, they are elected by the membership at large. Annually, members vote for one candidate in each director district up for election. Directors serve a rotating three-year term and must live in the district they represent.
All of the PEC Board members have earned their Credentialed Cooperative Director Certificate by completing five courses designed to provide essential knowledge and skills required of an electric cooperative director. Courses include training in director duties and liabilities, understanding the electric business, board operations and process, strategic planning and financial decision-making.
Board members with an asterisk (*) by their name have also earned their Board Leadership Certificate. These Board members have expanded their knowledge by taking 10 additional courses on topics including the cooperative business model, governance, finance, communications, technology, and risk management.
District 1: Joe Book, Rochester
Term: 2016-2019

Joe has been a cooperative member for more than 30 years and is a lifelong resident of Olmsted County. He is a retired Rochester Firefighter and currently resides in Haverhill Township with his wife Betty. They have three daughters and ten grandchildren.

District 2: Ken Wohlers*, Hayfield
Term: 2015-2018

Ken was born and raised in Lake City, MN. He served in the United States Navy in the finance department and worked in the accounting field for many years. In 1997, he began farming the family farm near Hayfield, MN.

District 3: Bob Hoefs, Mazeppa
Term: 2017-2020

Bob lives near Mazeppa and is an active member of St. John's Lutheran Church. He served in the Army National Guard for four years before being honorably discharged. He is currently retired after a 30-year career as a John Deere dealer.

District 4: Gene Miller, Theilman
Term: 2015-2018

Gene is a retired dairy farmer, resident of Highland Township, and long-time member of People's Energy Cooperative. Gene has served on the Plainview Creamery Board for a number of years and currently serves as supervisor for the Highland Township Board.

District 5: Jerry Wooner*, Eyota
Term: 2017-2020

Jerry has lived in the Dover-Eyota area for 34 years (except for the five years he spent in the Marine Corps) and enjoys living and doing volunteer work in his community. He currently works for the Olmsted County Sheriff's Office.

District 6: Art Friedrich, Rochester
Term: 2016-2019

Art grew up on a farm in rural Chatfield and graduated from Chatfield High School in 1967. He and his wife of 42 years, Faye, reside in Marion Township on his grandfather's farm. His family has been Cooperative members since 1936.

District 6: Jeff Orth, Rochester
Term: 2017-2020

A native of Austin, Minnesota, Jeff has worked as a Deputy Registrar for the State of Minnesota since 1981. For over thirty years, he has lived in Rochester Township and has also actively farmed in the southwest Rochester area.
District Map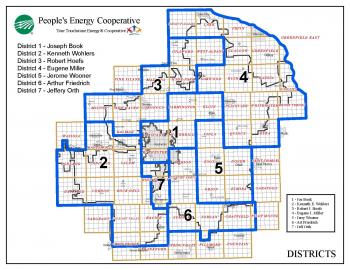 Effective with the Alliant acquisition on July 31, 2015, the Cooperative's voting districts were revised to ensure equal voting representation from each district. Click here or on the map to the right for a larger image of the map.
A listing of the cities and townships in each district can be found below.
If you are unsure which district you live in, please feel free to contact the Cooperative at (800) 214-2694 or (507) 367-7000.
Listing of Cities and Townships by District
*Please note that district boundaries changed effective July 31, 2015, as a result of the acquisition of Alliant Energy's electric service territory.
District One: Cascade, Elgin, Farmington, Haverhill and sections one through 18 of Rochester (north half)
District Two: Ashland, Canisteo, Frankford, Grand Meadow, Hayfield, Mantorville, Pleasant Valley, Rock Dell, Salem, Vernon, Wasioja and sections 19 through 36 of Kalmar, sections five through eight, 17 through 20 and 29 through 32 of High Forest, and sections four through 36 of Racine
District Three: Gilford, Hyde Park, Milton, Mazeppa, New Haven, Oronoco, West Albany and sections one through 18 of Kalmar
District Four: Elba, Glasgow, Greenfield, Highland, Lake, Minneiska, Mount Pleasant, Mount Vernon, Oakwood, Pepin, Plainview, Quincy, Watopa and Whitewater
District Five: Dover, Elmira, Eyota, Orion, and Viola
District Six: Chatfield, Filmore, Jordan, Marion, Pleasant Grove, and Sumner
District Seven: Stewartville, Sections one through four, nine through 16, 21 through 28, and 33 through 36 of High Forest, sections 19 through 36 of Rochester and sections one through three of Racine.